Reading Time:
4
minutes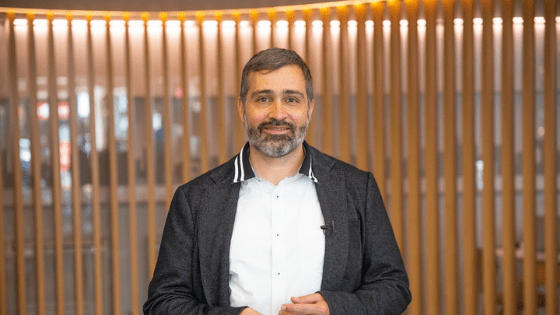 We interviewed Juan Antonio Gómez, agility expert and author of the book 66 ideas to be Agile in HR. 
Juan Antonio, welcome to the niikiis blog:
We'd like to start by asking you who you are.
I am the "weird" Telecoms engineer. I realized very early on that in order to achieve employee goals, it is not enough to have expert people and work hard. You need individuals who collaborate, cooperate, are motivated, have focus and are given vision. You need to manage the work environment so that HR can deliver 100%.
At a certain point in my career, I decided to leave the "dark side" of the organization (development, R&D, business and sales) to move to the light side (talent management, people management) to put the individuals and their interactions first and foremost. When you do this, the natural consequence is that HR develops, projects succeed, products and services are delivered on time, the company delivers value and money flows. In this order. 
What does HR agility mean?
HR agility means to stop doing some of the things we have been doing "forever" and start doing others that transform how we organize ourselves, how we prioritize, and how we deliver value to the business, employees, and stakeholders. 
From my point of view, I could summarize the meaning of agility in HR management with the following points: 
Stop focusing on processes to focus on what our people need to be more agile.

Stop telling others what to do, and start being exemplary in what we want them to do.

Start applying other types of agile practices, tools, frameworks, and methodologies that foster efficiency, value delivery, motivation, and engagement.

Transform our mindset to deactivate biases of the traditional, predictive and productive way of working, and thus be able to activate all that the world of agility proposes.
How has the need for an HR department to be agile changed over the last few years? Why?
To begin with, this need is not just for HR, it is for any area of the company that is immersed in or subject to a changing, uncertain, complex and/or ambiguous environment. Agile practices were designed and validated to work more effectively and efficiently than traditional practices in these types of environments. Simply put, if you want more and better HR results and your organization is in a time of change or complexity, agility will give you better results than what you are doing now. 
The issue is that in the case of HR there is an extra point: If HR does not accompany the agile transformation through the rest of the business, the agile transformation at the enterprise level will most likely fail. We are a key player, but we may not know it yet.
El tema es que en el caso de RR.HH. hay un punto extra: Si RR.HH. no acompaña la agilización del resto de la empresa, lo más probable es que la transformación agile a nivel empresarial falle. Somos una pieza clave pero posiblemente aún no lo sabemos.
How do you start applying agility in the department?
The recommendation is always to start with something simple, a first step that brings you closer to being more agile. The difficulty with agility (compared to the more classic HR or management tools) is that there are no recipes.
Each department must be able to learn and experiment with different agile practices to see which one works best for them and brings them the most value.
Some start with technical agility by implementing a tool or framework such as Personal Kanban, and others start with agile practices such as daily meetings or retrospective meetings; and others start with agile organizational agility practices such as recognition, decision delegation, motivation with Moving Motivators from Management 3.0, prioritization with "MoSCoW", or "TimeBoxing" in meetings.
What benefits does agility bring to the talent area?
More motivated HRs who are interested and willing to develop their talent, individuals who know each other better to know which skills, talents or competencies they should develop and improve, and HRs with a greater learning capacity. 
What are the consequences of not encouraging agility in HR?
To begin with, living with the consequences of working with a predictive mindset and tools when the world is volatile and complex. These consequences are priority problems, to be simplified and are unsustainable. Here are some questions you can ask yourself: 
Are you confident that everything you do delivers value?

Do the individuals in your organization perceive and recognize that value?
Are the individuals in your organization motivated, engaged and focused?
Are you motivated?
Would you be able to keep up with the same work you are doing now until you retire?
On the other hand, if you as a member of HR do not promote agility, do not live it, do not understand it, and do not feel it, then you cannot be agile and therefore you will not be able to accompany the rest of the organization to be agile. In agile, there is a great distance between doing agile (following agile practices such as Scrum or Kanban) and being agile (following agile practices and doing so in coherence with agile values and principles).
What kind of companies are implementing agility in the HR department?
During the last 2 years I have accompanied medium, large and multinational companies in the industrial, technology, food, services, automotive, banking, retail, logistics, hospitality, pharma and entertainment sectors. 
Curiously, I have not had the opportunity to accompany HR teams in software development or IT companies that may seem like they should be the ones to implement it. 
Thank you very much.